---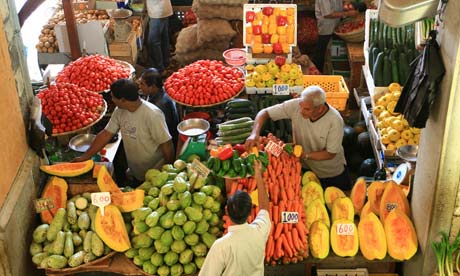 Food markets in Mauritius are where you want to shop for fresh goods – they're cheaper than the supermarkets and offer a more exciting shopping experience than fluorescent-lit aisles. The island of Mauritius is beautiful and very special. With a tropical climate, fruits and vegetables are in nearly always in season. The summer season favors the cucurbits, the plant shooting, while the winter encourages the growth of cruciferous leafy plants. However, some vegetables grow throughout the year but give a lower quality product against the season – same for the fruits.
Crops Produced in Mauritius
A wide variety of vegetables and fruits produced in Mauritius are very much appreciated by local people-it is worth highlighting that these form a very important part in our daily meals. A curry of vegetable is normally an essential part of a typically Creole Mauritian dinner or lunch whereas a fruit salad or an exotic ripe and juicy fruit (mango or pineapple) complements the meals.
Vegetables in Mauritius
The local markets of Mauritius display everyday an array of colourful and fresh vegetables. Cultivated locally in rural areas, they are picked up early in the morning to be sold during the day. Some common vegetables that can be found on the stalls are mainly aubergines, cabbages, margose (with bitter taste but has curative virtues), calebasses, patty pan, green bean etc. There is also a variety of bredes (eatable leaves such as cabbages leaves, Cresson, malbar leave etc...) which are cooked as broth or sautéed with onions to accompany a creole rougaille or any other sauce.
Fruits in Mauritius
The paradise island of Mauritius offers a diverse selection of tropical fruits for the pleasure of amateurs. Most of the fruits ripe in summer, but some of them can be procured at any time during the year. For instance, the small bananas (called banane zinzeli by the locals) with its perfumed flesh can be obtained at any time. You can also find papayas, mangoes (different varieties), apple – cinnamon, pineapple of course, corossol with its white and mellow pulp, litchi with its rosy taste (originate from China) and Longane from the same family (but sweeter). Moreover there is the huge pamplemousses with its unique taste (luscious but less sweet, the huge avocados, pomegranate, jamalac, jamblon, coconut etc. Last but not least, there is also the seasonal Chinese goyava fruit (from Brazilian originally) grown in the forests. All these delicious fruits can be brought in the local markets.