We created the Restaurants.mu members club to deepen the relationship with the visitors of our website, offer them to take part in a range of food related activities to enjoy special discounts, coupons and promotions.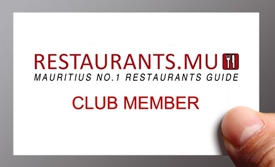 As a Club member you benefit:
Special promotions, discount coupons and special meal prices only available to club members
Receiving updates on special events
Taking part in club members activities (wine tasting, cooking classes etc)
Every month one of the new members will win a full gourmet dinner for two.
The Club members are invited to take part in unique activities such as: cooking workshops, food lectures, wine tastings, food festivals, new restaurants openings and many more.
As our club member you also get updates and news about special promotions, food related articles, restaurants reviews, chefs recipes and many more - all according to your topics of interest.
---
Fields marked with * are mandatory