---
The Mauritian cuisine offers an eclectic variety of local and international specialties and reflects the cosmopolitan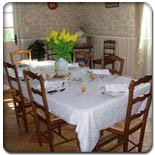 nature of the island, with influences stretching from all over the world including France, Africa, China and India. One can experience and explore the world of food with a tempting array of multi-ethnic cuisines in the various table d'hôtes around the island.
Table d'hôte literally means "host's table" and is referred to as a table shared by guests, where a meal is served at a specific time. By eating at a Mauritian home (or table d'hôte), you will experience the legendary hospitality of the Mauritian people and enjoy a traditional home-style cooking meal around a communal table, enabling you to sample truly authentic Mauritian cuisine whilst spending time with 'family', listening to stories from your hosts about the past and reviving childhood memories. Truly a unique dining experience in the true sense of the Creole tradition!
The experience begins as soon as you arrive at the local Mauritian home, where the host will impart her knowledge on Mauritian cooking, which largely revolves around choosing the right ingredients, all of which are hand-picked from the local village markets.
The menus of table d'hôte usually include mouth-watering crayfish and prawns straight from the ocean, venison
and palm heart, spicy temptations of home-grown Creole cuisine (honey lamb with cinnamon, fish curry with an array of spices, to name but a few), and the delicate subtleties of France, India, China and Asia. After tucking into the local delicacies which emphasis on the mix of cultures present in Mauritius, you can't help be feel like you have embark on an exceptional voyage of cultural and culinary discovery and delight, worthy of all senses and far beyond your initial imagination. Simply pure traditional cuisine delight! .
Hoping that your curiosity has now sufficiently been put to test, we look forward to see you soon in one of the various charming and authentic table d'hotes set up around the island and hopes that the experience will be among one of the various highlights of your stay in the wonderful paradise island which is Mauritius.