---
Dinning out Possibilities in Mauritius

Today in the hotels and also in the tourists centers, it is possible to find a big selection of restaurants which offer an extensive range of different cuisines to cater everyone's budget.
The dinning possibilities are vast, consisting of hundreds of restaurants all around Mauritius offering a selection of local cuisines: Mauritian, Creole specific international cuisines such as Italian, Chinese, French, Japanese and many more.
Regarding the prices, one can choose to eat local Mauritian food on the street for less than 1 euro, or eat in one of the top class restaurants offering gourmet lunch and dinner for over 100 euro.
Mauritius "Street" Food
For most Mauritians, daily practice is to eat during the daytime on the street sides, street stalls or in small local restaurants. This is a recommended way for the tourist to discover the local traditional food, enjoying the tastes of Mauritius and do so for very cheap.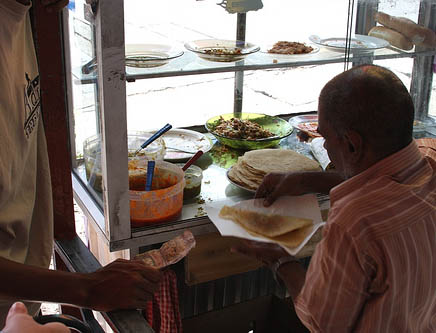 The hygiene in many of the stalls may be below average and may cause problems to those with a sensitive stomach, so when choosing the street stalls be sure that the place is hygiene and the food is fresh and not exposed to the sun.
Very popular common "street food" is the Indian specialties of "dholl puries" or "rotis". In the big cities you will also find many stalls offering Chinese noodles, Lamb meet and recently also hamburgers.
For those who like trying out Creole, Mauritian and Indian foods, eating on the street from street merchants is by far the most economical option and the food filling. Expect to pay anything from 10 Rupees (0.25 Euro) to 50 Rupees (1.2 Euro) for a full meal per person.
Fast Food & Chinese Restaurants
Another alternative is to go to one of the many fast food joints which can be found in every town and in the main villages.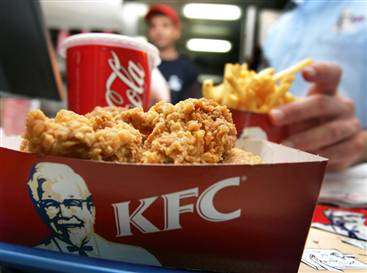 The number of the fast food joints has increased drastically in the last few years, and today it is possible to find many international fast food chains such as: McDonalds, KFC, Burger king, Pizza Hut, next to local fast food brands. You can find fast food serving hamburgers, pizzas, Indian food, chicken, and many more. The price ranges from 75 Rupees (1.8 Euro) up to 200 Rupees (about 5 Euro).
Additional rather cheap alternative to dine out is the Chinese restaurants. These restaurants can be found in all the tourist's areas and also in the city centers. You can find there delicious Chinese and Creole food, including also alcoholic drinks at rather low prices in comparison to other restaurants. Expect to pay about 250 Rupees (6 Euro) up to 450 Rupees (10 Euro) per person for a full meal.
Mauritius Mid-Range Restaurants
There are many beach restaurants, village restaurants and many modern style restaurants in the main tourist's areas and in the city centers offering selection of specific cuisines: Italian, Chinese, French, Japanese, Mexican, Mediterranean etc, and restaurants focusing on specific food types (seafood, steak and grill, vegetarian etc). In most cases, these started as local people's restaurants but superior quality of food and good service made them stand out and establish themselves with the tourists too. In these restaurants the service is good, the food is fresh and of good quality. A full meal in such restaurants would cost between 450 Rupees (10 Euro) and 800 Rupees (20 Euro) per person.
Mauritius High-End Dinning
The most expensive alternative are the hotels restaurants. The hotels offer a wide range of top class restaurants with top class chefs from all over the world. The selection is vast. Some of the hotels offer entertainment during dinner such as local dance show (Sega dance), live band, piano music and others. Expect to pay anything from 25 Euro up to 200 Euro for a full lunch / dinner.
Summary
All in all the average quality of food served in restaurants is nonetheless good, the food is tasty and rich of flavors, and in most cases the service is friendly, greeting and welcoming. You should consider that in some cases the service is slow and you need some efforts to attract the waiter's attention.
Hygiene - the hygiene is not what it should be in many of the cheap restaurants and in most of the street stalls and you must be careful. Make sure that the place is clean and popular (usually a sign of fresh food), using your common sense.