Recipe Overview
Chicken Satay is a very popular appetiser in Asia. Chicken pieces are marinated in spices, skewered and served with a sauce- peanut sauce being a favourite. This recipe is a healthier variation compared to the traditional, substituting the sugar out.
Recipe Ingredients
Serves: 10 chicken skewers
Preparation: 4-5 hours
Cooking Time: 20 minutes
Satay Chicken:
600g chicken thighs - deboned, cut into cubes
2 clove garlic, crushed
1 chilli, chopped
4-5 tbsp dark soy sauce
2 tbsp coconut oil (or sesame oil)
1-2 tsp honey (or 2 tsp brown sugar)
wooden skewers
Satay Sauce:
2 tbsp coconut oil
half small onion, chopped
1 green chilli, chopped
1 clove of garlic, crushed
150g peanut butter (100% peanut, no added sugar)
1 tsp honey
200 ml coconut milk (half can)
soy sauce as needed
Instructions
Marinate:
Blend together your garlic, chilli, soy sauce, coconut oil, honey and pour into a flat bottomed dish.
Mix in chicken cubes and toss it around in the sauce.
Cover with clingfilm, and pop into the fridge until you're ready for it.
Satay Sauce:
Heat the coconut oil in a pan over a medium heat. Add in your onion, chilli and garlic.
Turn the heat down a little.
Add your peanut butter and honey. Stir quickly and don't let the bottom burn.
Once it all starts to come together, quickly and carefully transfer it to a blender/processor.
Add the coconut milk and blend.
If it's too thick, you can loosen the mixture with a little more coconut milk.
Pour into a dish/pot/jar, and pop to one side.
Assemble:
When your chicken is ready to roll, thread it onto your skewers.
Place onto a rack over a baking tray.
Turn the grill (broiler) on to a medium-high setting.
Grill the chicken for about 10mins, until nice and browned. Take it out.
Turn them over, and cook for another 10.
Serve warm with peanut sauce!
Recipe Gallery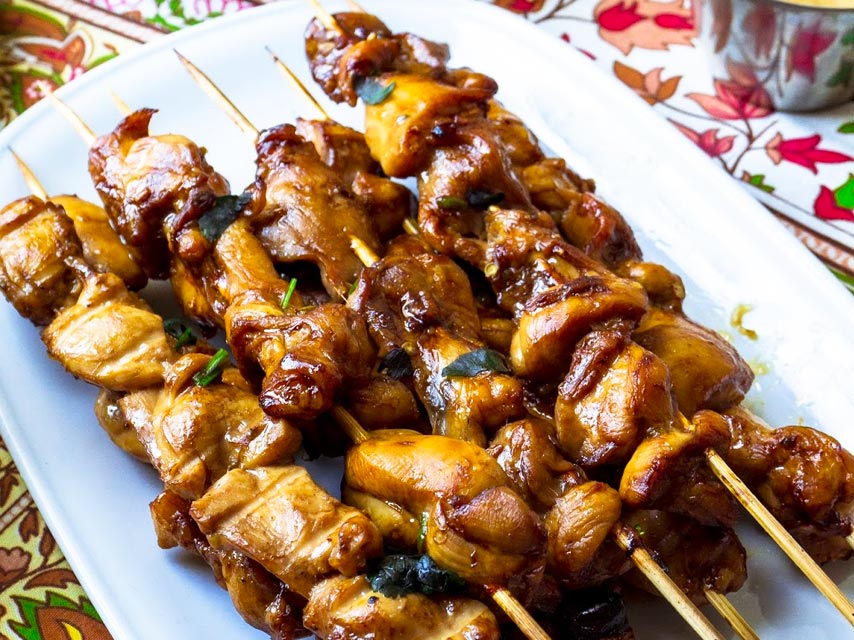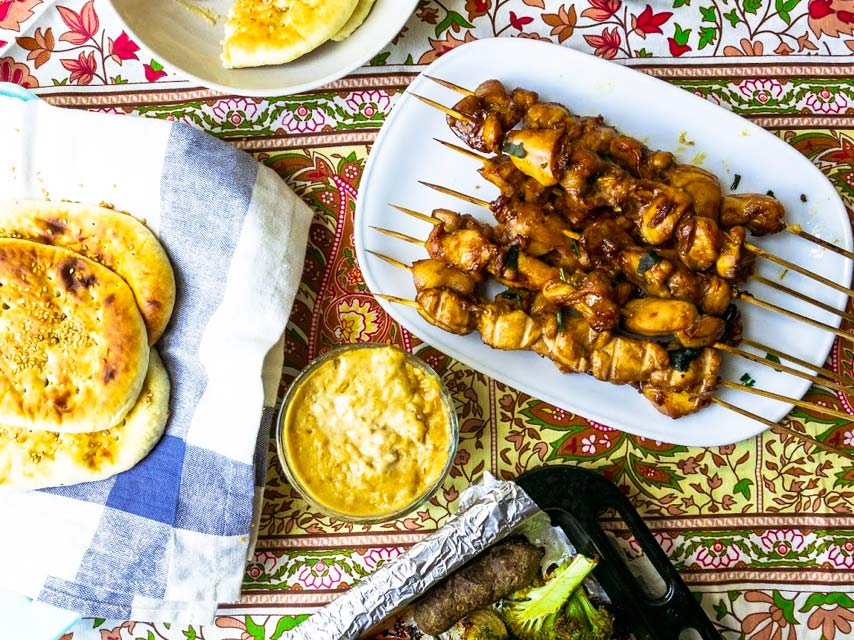 ×