Recipe Overview
Bol Renverser is simply a stir fry of different assortments of your choice in a thick sauce served over rice and all topped with a sunny side up egg. You are free to customise your own stir fry really. Some would go for a seafood one along with big prawns. And many will prefer the Classic – Chicken & Egg Bol Renverser. You can also make it the vegetarian way if ever you are vegetarian. And the ingredients varies really to your liking for example some will add broccoli and snap peas.
Recipe Ingredients
Chicken Marinade:
1 1/2 Pound Boneless Chicken Breast Cut into Bite size
1 Tbsp Salt
1 Tsp Mono Sodium Glutamate (Optional)
Black Pepper
1 tsp Ginger Paste
1 Tbsp Fish Sauce
1 Tbsp Sesame Oil
1 Tbsp Dark Soy Sauce
1 Tbsp Oyster Sauce
For the Chop Suey/Soy:
1/2 cup / 25 g Carrot thinly Sliced
1/2 Cup / 25 g Baby Corn
1 Onion Cut into Quarter
1/2 Cup Mushrooms
1 Tsp Ginger Paste
1 Tsp Salt
1/2 Tsp Monosodium Glutamate (Optional)
Black pepper
Bell Peppers
1 Tbsp Sesame Oil
1 tbsp Fish Sauce
1 tbsp Oyster Sauce
4 Tbsp Dark Soy Sauce
1 1/2 Cup Water(depending how much sauce you want)
Spring Onion
2 Tbsp Cornflour Mixture (1 Tbsp Corn Flour + 3 Tbsp Water)
Fried Egg (Egg per Person)
Cooked Basmati Rice (Portion per Person)
Instructions
Cut the chicken into fine strips and marinate with salt, mono sodium glutamate (optional), black pepper, ginger paste, fish sauce, sesame oil, dark soy sauce and oyster sauce
Add some oil over high heat and cook the chicken for 5 mins by occasionally stirring. Keep aside
Slice Vegetables: carrots, baby corn, chop onions coarsely, mushrooms
Heat a chinese wok or any non stick large pan with oil
Throw in all your vegetables, sauteed by adding ginger, salt, mono sodium glutamate (optional) according to your taste until tender
Add 1 tsp of sesame oil, fish sauce, oyster sauce and 4 tsp of dark soy sauce. Mix well
Add the bell peppers and cooked chicken
Pour in 1 1/2 cup of water and stir well
Add spring onion
Add 2 tsp of cornflour mixture
Cook for until the sauce thickens
To plate the Bol Renverse, use a medium sized bowl and begin by layering all your preps:
Begin with the fried egg at the bottom
Follow by half filling your bowl with the chop soy
Finally top with basmati rice
Press firmly to pack everything well
Place a plate over the bowl and turn it upside down
Serve with green chilli paste and tomato salsa as condiments on sides.
Recipe Gallery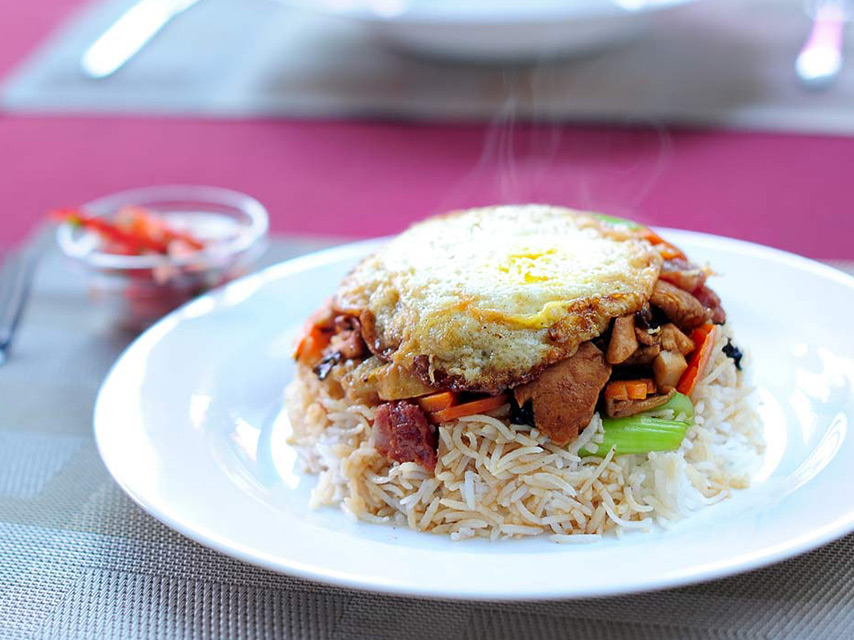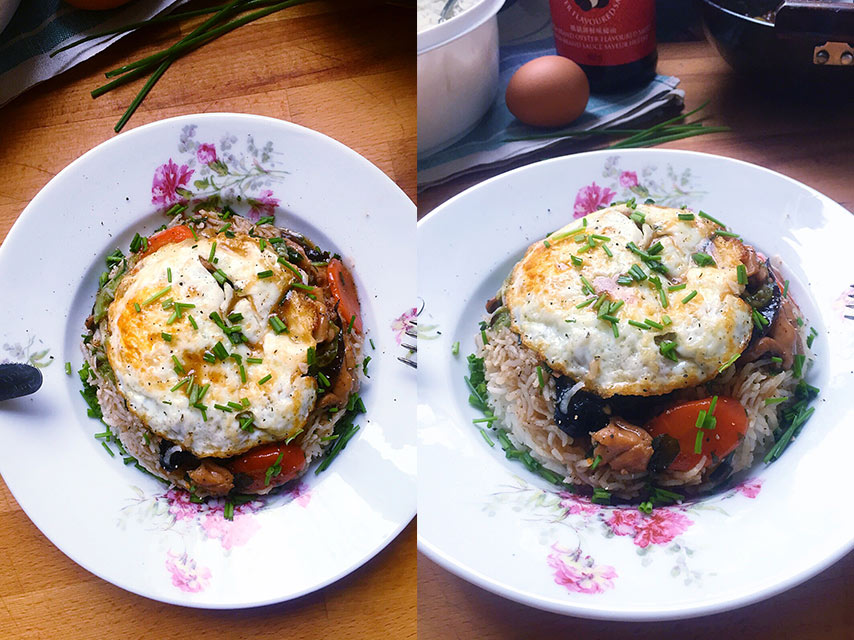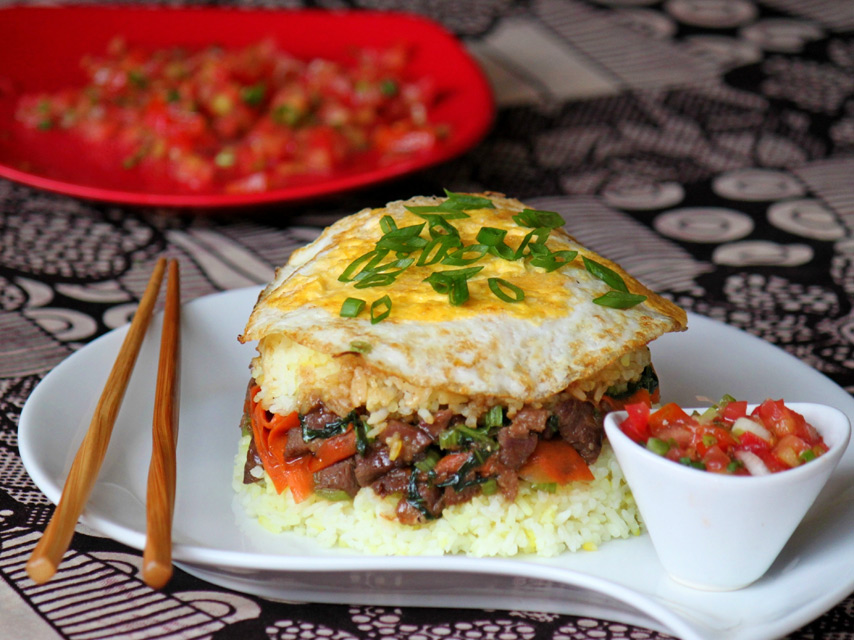 ×