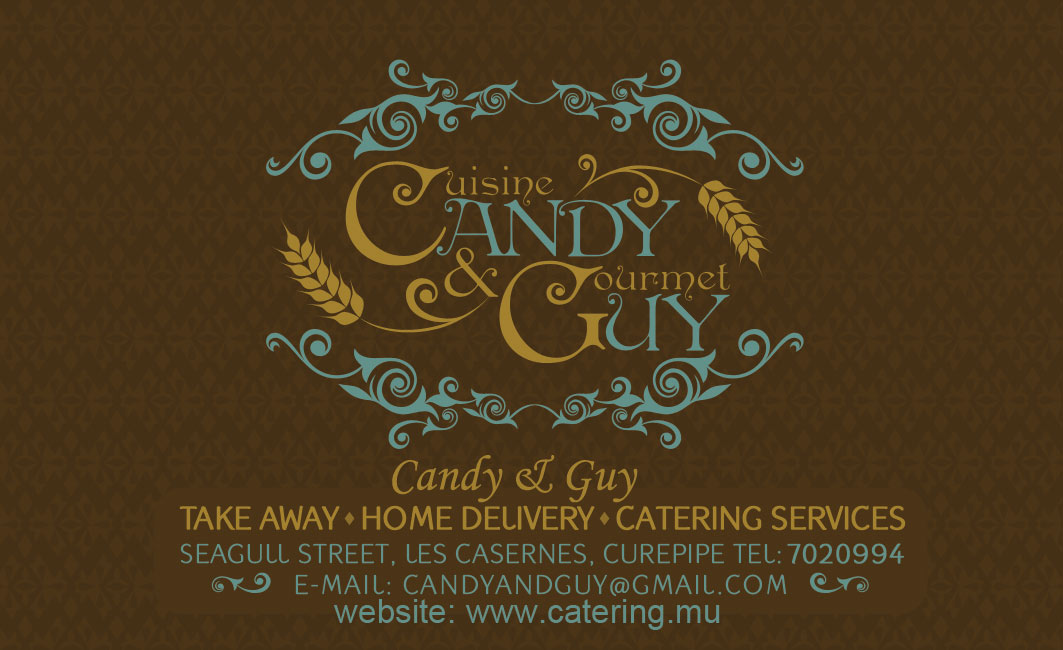 https://www.facebook.com/CandyEtGuy/info
Candy et Guy Cuisine Gourmet - qui sommes-nous? Nous sommes un couple et une compagnie jeune et énergique de take-away et service traiteur situé à Curepipe.
Nous sommes récemment rentrés à Maurice après plusieurs années passées à l'étranger. Là-bas Candy travaillait dans une très importante entreprise pharmaceutique multinationale et Guy faisait sa carrière dans une compagnie high-tech très importante. Quoiqu'on y jouissait des conditions de travail superbes, en même temps on a été attiré à la cuisine et pâtisserie professionnelle. Tous les deux nous avons suivi les cours professionnels: la Cuisine pour Guy et Pâtisserie et Boulangerie pour Candy. On aime cuisiner à tel point que Guy a changé sa carrière high-tech contre le stage suivi de travail de chef aux restaurants et hôtels de haute classe. Candy tout en continuant à être employée par la firme pharmaceutique, continuait à se perfectionner dans le domaine qu'elle préfère : pâtisserie, confiserie et boulangerie.
Depuis notre mariage et lune de miel à Maurice il y a quelques années, Guy est tombé amoureux de notre île, tandis que Candy a redécouvert son pays natal. Et voilà que nous sommes là, à Curepipe, impatients de commencer à employer nos connaissances et talents culinaires au service des Mauriciens. C'est notre plaisir et notre but que d'amener les plats internationaux et en particulier la cuisine méditerranéenne et pâtisserie européenne de haute qualité au goût Mauricien.
Candy et Guy Cuisine Gourmet propose le service-traiteur pour plats de haut de gamme fraîchement cuisinés sans être congelés, pâtisserie Française et produits de boulangerie. Nous n'utilisons que les ingrédients frais de première qualité. Nos prix sont abordables pour la qualité supérieure de nos plats et produits dont le choix est riche et varié.
Tous ceux qui se donneront de la peine de venir chercher leurs commandes à Curepipe pourront nous observer au travail dans notre cuisine ouverte à la vue de nos clients. Nous travaillons en observant les lois d'hygiène les plus stricts, sous licence des autorités concernées et nous possédons tous les permis nécessaires.
Pour les commandes de pâtisserie (gâteaux, tartes, biscuits, brioches françaises) dépassant Rs. 500 nous offrons service livraison pour la Plaine Wilhems aux heures suivantes :
11.00 - 14.00 de lundi à vendredi
18.00 - 21.00 de lundi à jeudi
Livraisons pour Albion: lundi et vendredi soir seulement.
Voici la liste des gâteaux fortement recommandés de Candy :
The Raspberry Club – Lemon Sponge Cake, Jellified Raspberry Sauce, Honey Cream
The Pure Caribbean – Pineapple Sponge Cake, White Chocolate & Coconut Crunchy Base, Caribbean Cream, Lime & Yogurt mousse
The Exotic Chocolate – Almond Dacquoise, Chocolate Mousse, Exotic Fruit Mousse, Dark Chocolate Glazing
The Angevin – with Genoa bread, sour cherry sauce, hazelnut cream, caramelized hazelnuts, Cointreau cream and white chocolate spraying
The Tanzani – Hazelnut Sponge Cake, Praline Crunch, White Coffee Mousse & Hazelnut Praline Mousse
Precious Raspberry – Chocolate Biscuit, Raspberry Cream, Chocolate Mousse, Dark Chocolate Glazing
Smith – Hazelnut Dacquoise, Green Apple Cream, Gianduja Cream, Hazelnut Mousse
Caribbean Heart – Lemon & Hazelnut Biscuit, Peanut Caramel, Exotic Fruits Mousse, Green Lemon Glazing
Mozart - Hazelnut Croquant, Chocolate Mousse, White Chocolate Mousse
The Basil – Almond crunchy base, Lemon sponge cake, Raspberry Coulis & Lemon & Basil mousse
Tricolade – 3 layers of chocolate (white, milk and dark) and dacquoise base.
The Tonka – Tonka bean mousse cake with hazelnut dacquoise and chocolate streusel
Cassis Delight – Cassis Mousse & Chocolate Streusel
Meringue Passion – Passion Fruit Mouse & Italian Meringue
Chocolate Fondant
Cream Cheese Crumble Cake
New York Cheese Cake
Cheese Cake With Mixed Berries
Tiramisu Cake
Chocolate & Hazelnut truffles
Tartelettes: Apple Streusel, Pear & Chocolate Fudge, Lemon & Italian Meringue, Kiwi & Almond Cream, Crusty Chocolate & Mixed Berries.