---
As my friends can verify, I love the clubbing and the party scene. The dancing, drinking, and hooking up are just a few of the joys of going out clubbing. I am happy to say that I've partied in at least 25 countries (and still counting!), so I guess I have enough experience to share with you the readers about the clubbing and drinking scene found here in Mauritius, and especially in Grand Baie where I live.
Grand Baie Night Life – The Clubbing Scene
The Grand Baie nightlife has evolved drastically during the recent years. From a sleepy city of 1-2 clubs, today one can find about 10 night clubs and many more active pubs.
Most of the "action" is during weekends, when both local and tourists fill the clubs and bars, and party until the very late hours.
This is why I strongly advice to plan your schedule accordingly, making sure you save enough energy for long nights out of clubbing and drinking during the weekends!
It is very easy to find clubs in Grand Baie, as almost all of them can be found on Royal Road in the center of Grand Baie. So, all you have to do is to start walking along Royal Road until you see a club, and then continue to the next, and the next....
Another big advantage of the nightlife in Mauritius is that many of the clubs offers free entrance, while others charge low entrance fee of 100 Rs (about 2.5 Euro), which make it ideal for bar/clubhopping, where you can find yourself skipping from one place to another until ending the night at early morning the next day.
The Grand Baie clubbing scene only starts rather late, at around 23:30 pm, so plan accordingly. If you are like me and you are not in your 20's anymore, have a rest before going out so you are sure to keep partying all night.
Grand Baie's Complete Clubs "Tour"
There's a lot of activity during weekends, so my suggestion is that you will begin your evening at the first club on Royal Road when coming from the direction of Pointe Aux Cannonier, heading the direction of Pereybere.
The first place you will find is the Les Enfants Terribles. This club is divided into a few sections, in which they offer different types of music. Also, there are 3 bars there- 2 inside and one outside, so you can really enjoy drinking, and dancing while changing places inside the club. For more details on the Les Enfants Terribles Click here.
You can also try the Patch and Parrot in Point aux Cannonieres for a bit of sports action. This place offers a great combination for people who want to watch a game and have a drink, and also for enjoying some dancing. For more details on the Patch and Parrot Click here.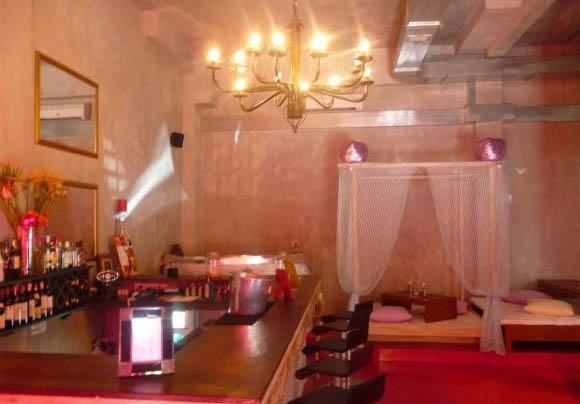 From there, if you continue straight the direction of Grand Baie you will find the Bedroom Bar, Restaurant & Lounge. This place is exactly as it sounds- comprising of beds which are divided by white curtains. The Bedroom bar is more about chilling out while enjoying some good music. For more details on the Bedroom Bar & Lounge Click here.
The next place I recommend to visit (even though it is not a club, but rather a restaurant / bar) is the Beach House Bar, which has great food and very niceambiance in the evening. It is situated right on the beach, so you can really enjoy a cocktail or beer on the beachfront. For more details on the Beach House Bar Click here.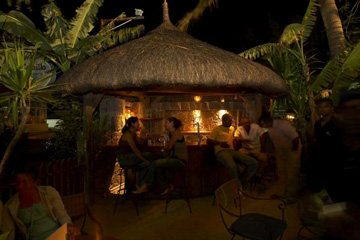 Further down Royal Road, is the Banana Beach Club. This is one of the best places in Mauritius for drinking out, seeing both locals and tourists and listening to live music. Every weekend there is a band playing live music from jazz and blues, to rock music. If you wish to just chill out and enjoy the cool beach atmosphere or see live music performance, you're in the right place – just make sure to come early (at around 21:30 – 22:00) so you will have a place to sit. For more details on the Banana Beach Club Click here.
If you wish to party and party hard, you should definitely go to the Godfather Club. The godfather is the only club found right on the beach. The club is located a little off Royal Road, next to the entrance to the Royal Palm resort (look for the signs). It has few rooms, in each of them you will find different kind of music. This is defiantly the biggest discotheque currently operating in Grand Baie. You will find the Godfather packed with locals during weekends. For more details on the Godfather Club Click here.
The next club to be found on Royal Road is the N Gyone Dance Bar & Lounge. The Ngyone is found on Royal Road next to the Total Gas Filling station. It is rather a new club, as clearly visible from its design, sound system and light elements. Out of all the clubs in Grand Baie, this is definitely one of the most beautiful ones, very similar to the clubs found in Europe. The club consists of one big lounge area, where you can sit outside and chill out, and a big dancing area. There are two bars one inside and the second outside as part of the lounge area. The Ngyone offers a very good combination of a club and a lounge. For more details on the Ngyone Click here.
Next to the Ngyone you will find the Buddha Bar (also located on Royal Road), which is one of the busiest club / Bars in Grand Baie. From the outside you will see a few tables, and when you walk inside you will find a sitting area and a big round bar which everyone is sitting and dancing around it. The Buddha Bar is almost always packed from around midnight, so if you plan to sit at the sitting area, be sure to come before 23:30.
Other clubs in Mauritius which are not in Grand Baie are:
Executive Club, Royal Road (Coronmandel)
Illusion disco Ltd (Sivananda Street, Curepipe Road, Curepipe)
Paradox Club (MCB Building, Rue John Kennedy, Rose Hill)
Port Louis Gymkhana (Frere Felix de Valois, Port Louis)
Queen's night Club (Route St Jean, Quatre Bornes)
Sai Toong, 17 (Jummah Mosque street, Port Louis)
SHOUT -SHOTZ (The terrace) (Royal Road, Flic en Flac)
Summer Beach Club (Coastal Road, Flic En Flac)
The Ritz Club (Gentlemen's club) (Royal Road, Baie du Tombeau)
Xindix Nightclub (Joomun Building, Curepipe)
Prices for Going out in Mauritius
One of Mauritius' biggest advantages is that except than in few places, there is no entrance fee to most of the clubs, so the only price you have to pay is for the drinks.
Drinks prices vary from club to club, but in general beer costs 90-120 Rs and a cocktail about 200-350 Rs.
Tips for Clubbing in Mauritius
When partying and clubbing, you encounter people from all classes, who usually had a bit more alcohol then when meeting them in other circumstances. That said, you are likely to encounter people who lack everything from hygiene to common sense.
I gathered here a list of some tips and ideas to help you in taking part in the clubbing scene.
Wear the right clothes - I have seen so many times people (90% guys) not getting into clubs because they were wearing torn jeans which left no room for imagination, dirty shoes, very short pants. no shirt. You should take into account that top Class night clubs want to make sure they maintain a Top class clientele. They do so by ensuring that people, who dress badly, simply don't go in.
Go to different clubs during the night- In Grand Baie especially, as the clubs are so close to each other, and most of them do not charge entrance fee, my suggestion is to go to different clubs during one night out.
Take a shower before going out!
Wear deodorant- I know this goes without saying, but some guys I have met smell terrible and have no idea what to do about it.
Brush your teeth and have with you a pack of gum, breath mints, or mint sprays.
For the smokers - make sure you bring enough cigarettes with you, because cigarettes are hard to find at night, many of the clubs do not sell them and when they do, the price is usually much higher.
Always remember one thing, which is that if you piss the doorman off, you wont get in at all.
Watch out from idiots who come to clubs just to start fights.
Check these links for the list of Clubs, Discos and Bars in Mauritius: