---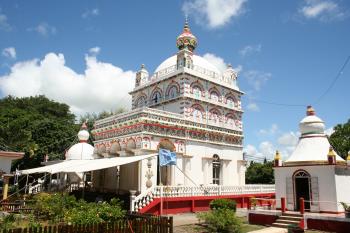 Hinduism is formed of diverse traditions including fasts, feasts and festivals. Hindus believe it is not easy to unceasingly pursue the path of spirituality in one's daily life, thus fasting in Hinduism indicates the denial of the physical needs of the body for the sake of spiritual gains.
According to the scriptures, fasting helps create an attunement with the Absolute by establishing a harmonious relationship between the body and the soul. This is considered to be imperative for the well being of a human being as it nourishes both his/her physical and spiritual demands. In Hinduism each day of the week is related to planetary constellations and devoted to a certain deity. These fasts are generally observed according to one's individual needs.
The day fasts can be understood in the following way according to the different days of the week.
Fasting by days:
Fast on Monday is observed for Lord Shiva - married women fast to pray for a prosperous married life while unmarried girls observe fast to find an ideal husband. Lord Shiva is believed to be very calm and who can be pleased easily. Fasting on Mondays begins at sunrise and ends at sunset. On this day, food is only eaten after evening prayer. Lord Shiva and his consort Goddess Durga are worshipped, but of course no prayer begins without remembering their elephant-headed son, Lord Ganesha. The fasting on Mondays in the month of Shravan is considered even more auspicious.
On Tuesdays, Hindus fast for 'Ambe Maa' (also known as 'Durga') and Lord 'Hanuman' (The Monkey God, Lord Ram's devotee). They chant verses in honour of Goddess Durga and visit temples to offer their prayers. Goddess Durga is said to be that Goddess who gives strength and courage to women.
On Wednesdays, Hindus fast for 'Bahuchara Mataji' and similarly they chant verses and visit temples to offer their prayers.
On Thursdays, either Maha Laskshmi (Lord Vishnu's wife), GayatriMata, or Bhuvneshvari Mata is worshipped. There is a belief that people who observe a fast on this day will be blessed with wealth and a happy life. People chant holy verses and carry out joint family prayers in the morning and evening.
On Fridays, Hindus fast for Santoshi Maa. Many women do not consume sour foods on this day. They fast for a minimum of sixteen Fridays. On the sixteenth Friday, some girls under the age of sixteen are invited where food and gifts are distributed to them so that their fasting are successful and that their wishes are fulfilled. They offer their prayers, chanting to Santoshi Maa in the hope that their family will live in contentment and happiness.
On Saturdays, Hindus fast for 'Lord Hanuman' or 'Shani Dev'. They chant the 'Hanuman Chalisa' and go to Lord Hanuman's temple to offer special flowers and oil. They pour oil all over Lord Hanuman's 'murti' (statue) .They often even read stories about Lord Hanuman and the sacred book 'Ramayana'. Fasting on Saturdays is usually observed by men (on Tuesdays and Thursdays, both men and women observe fasts).
On Sundays, Hindus fast for all "Mata Jis"(Goddesses). They fast in the glory of all the Goddesses. They even visit temples for prayers. It is believed that by observing fasts on Sundays, one is blessed with cosmic energies from the Goddesses (also known as 'Shakti').
Fasting on Special Occasions and Festivals:
Hinduism is also known to be one of the most famous religions across the world. It basically encloses thousands of Deities which are regularly worshipped by Hindus. It has been a tradition since centuries to observe fasts on pious occasions and festivals. For example, during the month of January, Hindus observe fasts on the occasion of 'Sankranti'- which is considered to be the New Year for Hindus. They eat only pure vegetarian food on this day.
Moreover, in Mauritius, Maha Shivaratree (The 'Great Night of Shiva') is one of the Hindu festivals, which is celebrated with great pomp and fervor and with a lot of devotion by Hindus. They observe fast for a whole week –eating vegetarian food only. Sacred verses are chanted daily and pilgrims proceed to the Sacred Lake (Ganga Talao) on foot to fetch the holy water to be offered to Lord Shiva during The Great Night of Shiva.
There are more occasions which encourage devotees to fast. For instance, for the 'Durga Nawmi' (whereby the nine forms of Goddess Durga are worshipped), Hindus are to observe fasts for nine to ten days. Here again, abstaining from non-vegetarian foods and for some eating only fruits and food with no salt during the period of fast.
Hinduism is full of rituals and beliefs where there is a high emphasis and importance on Fasting. Fasting first of all helps to purify oneself- both at the physical and psychological levels. Also, it is a way to control our senses, helping us to assert our control on our five senses rather than vice-versa.